Additional Info
News
Welcome to the Top Half Air Website.
A family-owned business, we install the Panasonic range of heat pumps in commercial premises throughout Auckland.
Browse our site to see how we can make your working environment more pleasant.
4.4kW Compact Inverter Floor Console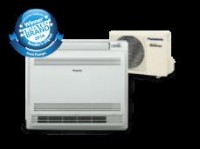 The slim, elegant and space saving design of these Single-Split, Floor Console Inverter Heat Pumps hides powerful performance, energy effciency and a host of home comfort features.
3.40kW Nominal Cooling Capacity, 4.40kW Nominal HEATING Capacity
Compact, elegant, super-quiet and highly effcient Floor Console range of Single-Split Inverter Heat-Pumps, providing up to 7.10kW capacity output (CS-E18GFEW model) with heat down to -15°C.
Despite their compact size, our Floor Console models offer both high capacity and an energy saving performance that places them at the top of their class industry wide.
Designed with colder climates in mind, the Floor Console range is still capable of heating your home while it's -15°C outside.
Thanks to Panasonic's Inverter technology, all the benefits of an Inverter system are present- including quick comfort, thanks to powerful output right from the start; and quiet,effecient, energy saving operation, thanks to flexible power control.
While our Floor Console models provide plenty of heating and cooling power, they also feature industry leading quiet operation for greater comfort: both the CS-E9GFEW and the CS-E12GFEW Indoor units can be set to run as quiet as 23dB - almost as quiet as leaves rustling on a tree.
Furthering the benefits of installing a Floor Console is the Upper & Lower Vane design - providing bi-directional airflow that warms the whole room uniformly, right down to your toes.
---
Cooling
Energy Star Rating
2.5
Heating
Energy Star Rating
2.5
Moisture Removal
L/h
2
Air Circulation (indoor/Hi) Cooling
L/s
158
Air Circulation (indoor/Hi) Heating
L/s
167
Sound Pressure Level dB (A) (Cooling)
Inside (Hi/Lo/S-Lo)
39/28/24
Outside (Hi/S-Lo)
48/-
Sound Pressure Level dB (A) (Heating)
Inside (Hi/Lo/S-Lo)
39/27/23
Outside (Hi/S-Lo)
50/-
Sound Power Level dB (Cooling)
Outside (Hi/S-Lo)
63/-
Sound Power Level dB (Heating)
Outside (Hi/S-Lo)
65/-
Indoor Unit
Height (mm)
600
Width (mm)
700
Depth (mm)
210
Net Weight (kg)
14
Outdoor Unit
Height (mm)
540
Width (mm)
780
Depth (mm)
289
Net Weight (kg)
35
Refigerant Pipe Diameter
Liquid Side (m)
6.35
Gas Side (m)
9.52
Pipe Length
Min (m)
3
Max (m)
15
Add Gas Amount
g/m
20
Outdoor Operation Range (°C)
Cooling
16~43
Heating
-15~24
---