Additional Info
News
Welcome to the Top Half Air Website.
A family-owned business, we install the Panasonic range of heat pumps in commercial premises throughout Auckland.
Browse our site to see how we can make your working environment more pleasant.
6.0kW Single Phase Cassette Type Inverter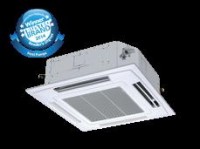 6.0kW Reverse Cycle Inverter Cassette Air Conditioner- Featuring the Ultimate in Energy-Saving Technology.
Panasonic Inverter Technology
6.0kW Cooling
7.0kW Heating
Extremely High Airflow
Specifications
General

| | |
| --- | --- |
| Type of Split System Air Conditioner | Ducted |
| Inverter Equipped | Yes |
| Function | Cooling + Heating |
Performance

| | |
| --- | --- |
| Electrical Voltage (V) | 415 |
| Phase | 3 |
| Cooling Capacity (kW) | 10 |
| Cooling Capacity Range -Min~Max (kW) | 3.3~12.5 |
| Heating Capacity(kW) | 11.2 |
| Heating Capacity Range - Min~Max (kW) | 4.1~14.0 |
| EER (w/w) | 3.36 |
| COP (w/w) | 3.52 |
| Cooling Operating Temperature Range (°C) | -15~46 |
| Heating Operating Temperature Range (°C) | -20~24 |
| Compressor Type | Inverter |
| Refrigerant Type | R410A |
Spec's

| | |
| --- | --- |
| No. of Indoor Units | 1 |
| Indoor Unit Dimensions W x H x D (mm) | 840 x 256 x 840 |
| Outdoor Unit Dimensions W x H x D (mm) | 940 x 996 x 340 |
| Facia Dimensions W x H x D (mm) | 950 x 33.5 x 950 |
| Weight - Indoor Unit (kg) | 24 |
| Weight - Fascia Panel (kg) | 4 |
| Weight - Outdoor Unit (kg) | 68 |
| Air Volume - Indoor - Cool / Heat (L/s) | 350/350 |
| Air Volume -Outdoor - Cool / Heat (L/s) | 1000/1000 |
| Sound Pressure Level - Indoor - Cooling -H / M / L (dB(A)) | 36 / 31 / 28 |
| Sound Pressure Level - Indoor - Heating -H / M / L (dB(A)) | 36 / 31 / 28 |
| Sound Power Level - Indoor - Cooling - H / M / L (dB(A)) | 53 / 48 / 45 |
| Sound Power Leve - Indoor - Heating - H / M / L (dB(A)) | 53 / 48 /45 |
| Sound Pressure Level - Outdoor - Cooling (Silent mode)(dB(A)) | 48 (46) |
| Sound Power Level - Outdoor - Heating (Silent mode)(dB(A)) | 50 (48) |
| Sound Power Level - Outdoor - Heating (Silent mode)(dB(A)) | 65 (63) |
| Maximum Pipe Length (m) | 50 |
| Elevation difference with Outdoor Higher (m) | 30 |
| Colour | White |
| Warranty | 5 Years Manufactuer's Warrenty |
| Air Filtration System | Yes |
| No. of Fan Speeds | 3 |
| Remote Control | Wired / Wireless Optional |
| Programmable Timer | Yes |
| Built in Drain Pump | Yes |
Download attachment (1035.09kb)