Additional Info
News
Welcome to the Top Half Air Website.
A family-owned business, we install the Panasonic range of heat pumps in commercial premises throughout Auckland.
Browse our site to see how we can make your working environment more pleasant.
7.20kw Deluxe E series High Wall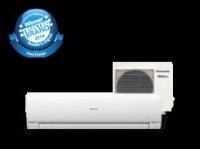 Choose a Panasonic 7.2kW ECONAVI Reverse Cycle Inverter Air Conditioner to stay cool during summer and warm during winter.
Now featuring a stylish new design, nanoe-G Air Purifying System and advanced ECONAVI technology - the ultimate in energy saving performance.
6.30kW Cooling, 7.20kW Heating
ECONAI Technology for Extra Energy Savings
Inverter Technology Reduces wasteful Operation
nanoe-G Air purifier and Mild Dry Cooling Function
Oustanding Operating Temperature Range
---
ECONAVI Technology
ECONAVI is a Panasonic initiative which continues our core belief that going green shouldn't compromise your comfortable lifestyle. By applying high precision sensors and control programme technologies, ECONAVI is able to optimise your Air Conditioner operation according to room conditions. This smart technology allows your Air Conditioner to evaluate the number of people in a room, along with their level of activity, and adjust the air flow accordingly. This enables up tp an additional 35% energy savings in cooling and up to 45% energy savings in heating, compared to other inverter models. Not only does this reduce wastage of natural resources, it will also save you money on your power bill.
Specs

Cooling
Energy Star Rating
2
Heating
Energy Star Rating
2
Moisture Removal
L/h
3.5
Pt/h
7.4
Air Circulation (indoor/Hi) Cooling
L/s
282
m3/min.
16.9
ft3/min.
595
Air Circulation (indoor/Hi) Heating
L/s
273
m3/min.
16.4
ft3/min.
580
Sound Pressure Level dB (A) (Cooling)
Inside (Hi/Lo/S-Lo)
45/36/33
Outisde (Hi/S-Lo)
52/47
Sound Pressure Level dB (A) (Heating)
Inside (Hi/Lo/S-Lo)
45/35/32
Outside (Hi/S-Lo)
52/47
Sound Power Level dB (Cooling)
Outside (Hi/S-Lo)
66/61
Sound Power Level dB (Heating)
Outside (Hi/S-Lo)
66/61
Indoor Unit
Height
290mm
Width
1070mm
Depth
240mm
Net Weight
12kg
Outdoor Unit
Height
795mm
Width
875mm
Depth
320mm
Net Weight
59kg
Refigerant Pipe Length
Liquid Side
6.35mm
Gas Side
12.7mm
Pipe Length
Min
3m
Max
20m
Add Gas Amount
g/m
20
Outdoor Operation Range (°C)
Cooling
+5°C to +46°C
Heating
-15°C to +24°C
Download attachment (1374.57kb)